About Jeannie – Palmerston North Real Estate Agent
When buying or selling, you deserve the best Palmerston North real estate agent and the best experience. A home is the biggest capital investment most people have. Dedicated to offering a quality Real Estate service with systems second to none, Jeannie has two full time assistants, Olivia and Belinda that help her to help you achieve your goals when buying or selling real estate. Jeannie's main focus is delivering you an exceptional Real Estate experience by going the extra mile.
Jeannie's accolades over her twenty plus year real estate career need no introduction and include being the Number One agent for LJ Hooker Palmerston North for 30 years, the first member to be inducted into LJ Hooker's prestigious Hall of Fame, Life member – LJ Hooker Australasia's Multi Millionaires Club, Multi Millionaire 500 Club Member, International Eleven gold medals, Thirteen silver medals, Five bronze medals and of course being LJ Hooker New Zealand's number one salesperson for 20 years.
Jeannie Boswell sells real estate in all price ranges and all customers/clients get the same exceptional level of service regardless of the value of their property
Those who know me well, know that, for me, family is everything….that core value extends to when I'm working for YOU and your family. I have spent the last 29 years establishing and perfecting systems enabling you to platform your biggest capital investment to where it DESERVES to be in the market. Myself and my team are there to consolidate this process and give you the edge in the Marketplace that you deserve!!!!!! My business acumen speaks for itself…in terms of continued International, National and Local awards. However, I have always looked on those as a pleasant accolade for a job well done for my clients. You,your family and your circumstances are my first priorities and always will be. Give me a call,you won't be disappointed!!!!!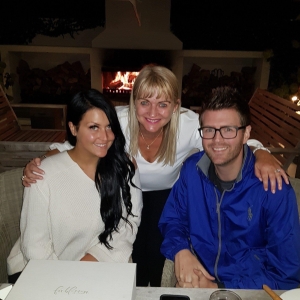 Jeannie with her children Ashleigh & Mark
SALES EXECUTIVE TO JEANNIE BOSWELL
Olivia Heaven has been working with me for nearly 11 years. Seen here with her darling (naughty) puppy Lucas. Olivia was awarded Number One Executive Assistant in New Zealand as an accolade for her attention to detail and her superior knowledge of the industry. Olivia is a vital part of my team, often knowing in advance what needs to be done!! Olivia's unending hard work and loyalty enables me to have more face to face, quality time with my client!! Thanks Olivia…well done!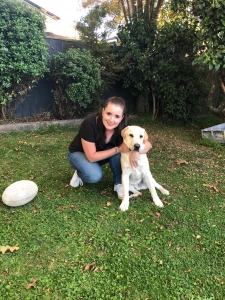 Olivia & Lucas